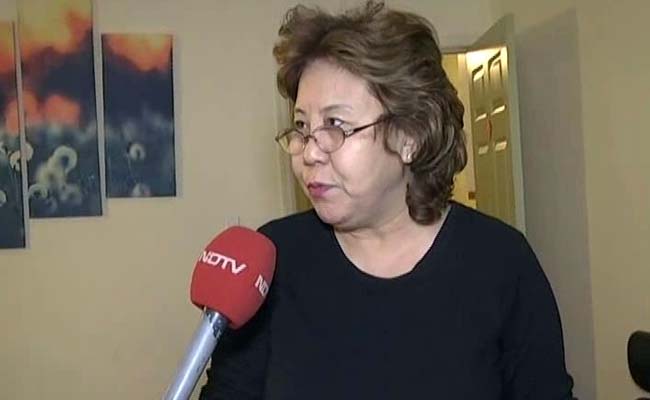 Highlights
Was told visa had been cancelled at New York's JFK airport, she alleges
'100% believe it's Chinese government's pressure on India,' she said
Government sources say she had never been issued a visa
New Delhi:
Chinese activist Lu Jinghua, who alleges that she was about to board a flight to New Delhi at New York's JFK airport on Monday when she was told that her visa had been cancelled, says India is the first country to deny her entry after China.
"I 100 per cent believe it's the Chinese government's pressure on India. I think China has given an economic business deal to India in exchange," Ms Jinghua, 55, told NDTV, stating that the denial of visa to "seven activists" implied a "change in the India-China relationship."
Lu Jinghua, a leader of the Tiananmen Square student protests, has an American passport and says she has never been denied visa by any other country.
At the airport, she says, Air India informed her that her visa had been cancelled.
Government sources said yesterday that she hadn't been issued a visa at all as her documents were "illegible" and revealed inconsistencies with the stated purpose of her visit.
Ms Jinghua countered: "Wrong application is a lie. I followed all directions. I was not given any reason."
The activist says she tried to contact the Indian consulate and visa office but they did not respond and phone calls on the number provided on the visa application went to voicemail.
India has refused visas to two other activists who – like Ms Jinghua – were to attend an inter-faith conference this weekend in the hill town of Dharamsala, the seat of the Tibetan spiritual leader, the Dalai Lama.
They are Dolkun Isa, an exiled Uyghur rebel leader branded a terrorist by China, and Ray Wong, an activist based in Hong Kong.
"I thought India is a free country. No other country ever had a problem with me. I just wanted to meet the Dalai Lama and pay respect to him," Ms Jinghua said.
 "I always thought positively about the Indian government, which allows Tibetans in exile," added the disappointed activist.
She alleged that China had pressured the Indian government because "it fears the rising power of the new prime minister of Tibet-in-exile, Lobsang Sangay."
The Dharamsala conference, which began yesterday and  ends on Sunday, is aimed at exchanging ideas among different ethnic and religious communities.
Comments