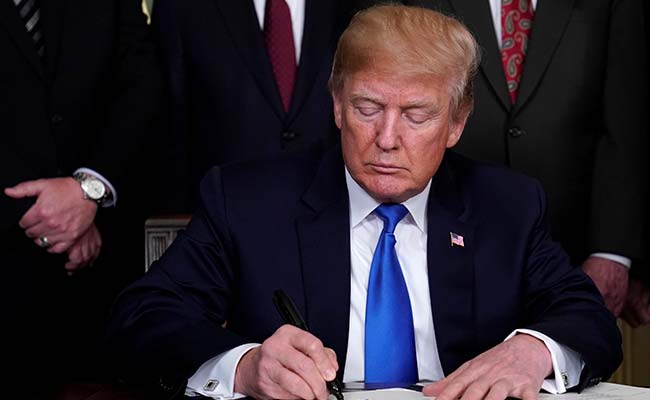 Washington:
The US government today began accepting applications for the H-1B visa, considered the most sought-after American work visa, for 2018-19 amid strict evaluation of the applicants by the US administration. While the number of H-1B visas it grants remains the same, the United States Citizenship and Immigration Services (USCIS), the agency which processes the visas, has clarified that there will be zero tolerance for even minor errors. The non-immigrant H1B visa is popular among Indian IT professionals, and allows technology companies hire large number of employees from countries such as India and China. The updated policy is part of President Donald Trump's "Buy American, Hire American" promise, which aims to create jobs for the Americans.
The H-1B is a non-immigrant visa that allows US companies to employ foreign workers in areas that need theoretical or technical expertise. Thousands of Indian and Chinese workers are employed under the H-1B visa scheme every year.

The work visa is issued for three to six years to employers to hire a foreign worker. About 65,000 visas are allowed annually and an additional 20,000 visas are given to those who have an advanced or Master's degree from universities in the US.

Additionally, H-1B workers who are petitioned for or employed at an institution of higher education or its affiliated or related non-profit entities, non-profit research organisations or government research organisations are not subject to this cap.

Successful applicants who will be allotted the H-1B visa will be able to work in the US from October 1, 2018. While the H-1B was earlier granted for three years, extendable for another three, the USCIS has suggested that now the tenure may be reduced.

However, the applications by Indian companies are likely to face a greater scrutiny, and just like in the previous years, Indian companies will have to pay more per application compared to those from other countries. On an average they are required to pay $6,000 per H-1B application.

The successful applicants, who will appear before American embassies and consulates for visa interviews and stamping on their passports, will have to be ready with details of their social media profiles, emails and phone numbers used in the last five years.

During his election campaign, President Trump had promised to tighten H-1B visa programme as part of his policy to generate jobs for Americans. Since taking charge in January 2017, the Trump administration has been talking of reforms in the H-1B visa scheme.

The USCIS said that the tougher visa issuance will protect American workers by combating fraud in the country's employment-based immigration programmes. "…too many American workers who are as qualified, willing, and deserving to work in these fields have been ignored or unfairly disadvantaged. Employers who abuse the H-1B visa program may negatively affect US workers, decreasing wages and opportunities as they import more foreign workers," it said.

Expecting a huge rush of applicants and greater scrutiny of all petitions, which is going to be a time-consuming process, the USCIS has temporarily suspended premium processing. This service allowed applicants to fast-track the process from the usual three to six months to just over two weeks by paying an additional fee.

According to the USCIS, between 2007 and 2017, it received the maximum number of 2.2 million H1B petitions from high-skilled Indians. India was followed by China with 301,000 petitions during the same period.
googletag.cmd.push(function() { googletag.display("adslotNativeVideo"); });
Comments